A tonne of classic tracks in a balearic funky hip hop mash up stylee…The first in a legendary series of master mash up party mixes!
⬇️ Download this mix
➡️ Get the collins303 podcast
This vinyl mix from summer 2005 (I went digital soon after!) was the first to kick off the soon to be legendary Full Flava Behaviour series of mixes, and now a club night in it's own right! Wall to wall classic tunes put together in a cut up stylee. Now that's what I call Full Flava Behaviour!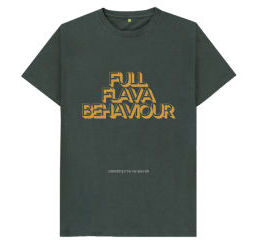 Get the tee shirt!
Available in men and women cuts
and in 3 colours.
Tracklist
Dynamo Productions – It's Showtime
Sheer Taft – Cascades / Eric B & Rakim – I Know You Got Soul (Acapella)
Electra – Autumn Love
The Stones Roses – Waterfall (Justin Robertson Mix)
JVC Force – Strong Island / A Skillz & Krafty Kutz – Aint It Funky
A Skillz & Krafty Kutz – Tricka Technology
Max Sedgley – Happy / Hijack – The Badman Is Robbin' (Acapella)
Run DMC – Beats To The Rhyme
Cry Sisco – Afro Dizzy Act (Bushwacka! Mix) / Grandmaster Flash & The Furious Five – The Message
Mantronix – King Of The Beats
Public Enemy – Rebel Without A Pause
James Brown – The Funky Drummer (Reprise)
Sugarhill Gang – 8th Wonder (Pressure Drop Mix)
The Jackson Sisters – I Believe In Miracles
Double Dee & Steinski – The Sugarhill Suite
The Blow Monkeys – La Passionara
The Stone Roses – Fools Gold
Massive Attack – Unfinished Sympathy (Oakenfold Mix)
Outro