One for the sunshine! 40 classic edits and remixes ripped up over 90 minutes in a Full Flava styleee…Check it!
⬇️ Download this mix 
➡️ Get the collins303 podcast
The last official full flava mix was done back in 2008... the award winning Full Flava Behaviour IV! (what happened to FFB5? If anyone knows, comment below). So, its about time an update was released. These mixes take time to plan and put together, which is extra tricky nowadays with family life! We got there though :) 40 classic tracks to enjoy in the sun...Now that's what I call Full Flava Behaviour!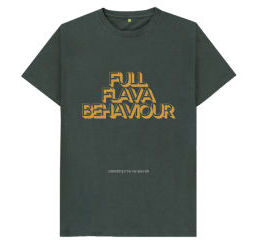 Get the tee shirt!
Available in men and women cuts
and in 3 colours.
Tracklist
Cole Medina vs In Deep vs collins303 – Last Night A DJ Cured My Wife
Beatconductor – Another Trick In The Hall [Spicy]
Chaka Khan – Move Me (LNTG Rework) [House Of Disco Records]
Finnebassen – Nightshift (edit) [Thank You Jack]
Boogie Down Edits – Sir Boogie [Boogie Down Edits]
The Bangles – Dub Like An Egyptian (Todd Terje Edit) [Soundcloud]
Imagination & Missy Elliot – Gotta Keep Workin' It (Greg Wilson MashUp) [Soundcloud]
Luvless – Castles In The Sky [Razor-n-Tape]
Bad Barbie vs Evil Smarty – I Cant Get Enough Acid [FKR]
DJ Butcher – Music Turns Me On (Greg Wilson Re-touch) [Chopshop]
Eric B. & Rakim – I Know You Got Soul (Acapella)
Dr Packer – Top Rankin' [DiscoDat]
The Soup Dragons – I'm Free (Hifi Sean Sunset dub) [Midnight Riot]
Alkalino – He Would Blow Our Minds [Audaz]
Wang Chung – Dance Hall Days (Psychemagik's Leg Warmer Edit) [Geffen Records]
Dr Packer – A Thousand Kisses [Masterworks Music]
Mista Shifta – Cant Lose (Yam Who rework) [Midnight Riot]
The Doors – Riders on the Storm (Luxxury Live Remix) [Soundcloud]
Chris Rea – Josephine (Le Sale's 'Le Coucher De Soleil Balearique' Edit) [House Of Disco Blog]
Coutel – Backed Roots (The DC dub) [Discotheque Credits]
Dave Gerrard – In The Mix [Chopshop]
Drop Out Orchestra – Rickrolled [Drop Out Sounds]
George Benson – Give Me The Night (Bezwun Mix) [TNFIF Blog]
Ray Barretto – Fulltime Paradise [Vehicle]
Dr Packer – Oh What Wow!! [DiscoDat]
Discotron – My Nu Joint [Tasty Recordings]
Fray Bentos – Longer Train Runnin [Katakana Edits]
Drop Out Orchestra – Promised [Drop Out Sounds]
Leftside Wobble – Bad Super [Bandcamp]
Don Diablo vs De la Soul – Stand up for me, myself and I [Bootleg Blog]
Disco Funk Spinner – Night Strangers [Katakana Edits]
Funk Hunk – Get Lucky (DF-SNL) [Sound Exhibitions]
Bizzare Inc – Playing With Knives (acapella)
Jamiroquai vs Bambaataa vs collins303 – White Knuckle Heroes
Sasse vs Everything But The Girl vs collins303 – Now we've broken up I miss you
Doctor Smog – The Air That I Breathe [We Mean Disco!!]
Bill Hicks – The Ride