A compilation of tunes for my dear friend, who was taken too soon and will be so sorely missed by us all. RIP Clive McDonagh, 1st September 1972 – 18 April 2021.
⬇️ Download this mix 
➡️ Get the collins303 podcast
I have made more personalised mixes for Clive than anyone else over the years - a few on his birthdays, one for Christmas and a couple of others. We shared a real bond over music :) So when Clive passed on earlier this year it seemed right to put together another mix of tunes for when his birthday came around on 1st September.

This is a collection of tunes that are mostly personal to my memories of Clive but will also strike chords with anyone who knew him. A lot of music here was also suggested by friends and family and I tried to get as many in as possible. This mix could have gone on for days, but I managed to get it down to 4 hours. 

You'll hear he enjoyed the finer tunes in life - it's classics all the way :)

The genre that I will always associate the most with Clive - and this might surprise a few! - is golden era hip hop. Late 80s/early 90s stuff which we really got into towards the end of our school days and was a large part of the soundtrack of that golden school leaving summer of '89 :) I really enjoyed putting all of this together, but those hip hop parts the most. 

I've written a bit about each tune in the mix and why it's there.

If you've got memories, tunes or anything you want to mention here about Clive, leave a comment below. 
Tracklist
1. Derek & Clive – Endangered Species
This mix had to start with some D&C! I've lost my sparring partner…so many times a long journey would be broken up with some back and forth on a classic skit. Was it the Barking and Romford toad? No, it's not called the barking toad because it lives in Barking, it's called the barking toad cos it goes 'woof'.
2. Pink Floyd – Wine Glasses (from the "Household Objects" project) / Pigs on the Wing, Part One
This mix is built around Shine On You Crazy Diamond as it's so appropriate for our mate Clive and was a total favourite for us through the years. This features a Floyd curiosity called 'Wine Glasses' that formed the basis of the intro to Shine On You Crazy Diamond (part 1). Spliced with Pigs On The Wing Part 1 – a firm session singalong fave.
If you didn't care what happened to me. And I didn't care for you.
We would zig zag our way through the boredom and pain.
Occasionally glancing up through the rain.
Wondering which of the buggers to blame. And watching for pigs on the wing.
3. Jungle Brothers – Straight Out The Jungle (soul shock mix)
If there is one tune I cannot hear without thinking of Clive, it's this one. He was big on his golden hip hop and this is one of the greats. Step to my side, suckers run and hide.
4. David Rose – The High Chaparral
The first of a few Western references. The boy loved a Western.
5. Eagles – Hotel California
Clive was well big on the Eagles. A Clive classic track.
6. Morcheeba – The Sea
A good shout from Bill on this one. I have quite a few memories for beano days out from the old times, visits to the caravan in Battle, and the time Clive spent with the family in Shoreham. I left my soul there, Down by the sea. I lost control here. Living free.
7. Radiohead – No Surprises
A classic track that I stuck in there to remind me of the classic 50C Eastwood Road sessions. We would all disappear in a puff of smoke listening to OK Computer 🙂
8. Simon & Garfunkel – The Only Living Boy In New York
Massive tune and one that we would come back to regularly. A Clive classic!
9. Aretha Franklin – Bridge Over Troubled Water
In the many mixes I did for Clive I would always stick some new/curveball type stuff in. This is one of those that fitted here nicely. One of my favourite covers, and I know he would have loved it.
10. Roger Moore as James Bond – Keeping The British End Up, Sir
The first of a few JB references – Clive's word was his Bond. He loved it.
11. Dean Martin – That's Amore
A great shout from Deb on this one. Who doesn't love a bit of Deano swagger?
When the world seems to shine like you've had too much wine – That's amore.
12. The Beatles – A Day In The Life (love version)
The first of a few Beatles tracks as they soundtracked so many sessions. Oh boy…
13. Dire Straits – Brothers in Arms
A stone cold Clive classic and again a track that would pop all over the place through the years. Brother in arms forever.
14. Lenny Kravitz – It Ain't Over 'til It's Over
A specialist shout from Dan on this one – Tune! So many tears we've cried…
15. Steve Miller Band – The Joker
Whether they were raising the roof or falling flat as a pancake – It's the way he told them.
16. Glen Campbell – Wichita Lineman
Another nod to Clive's (Country and) Western leanings…and one that reminds me of Clive's fondness for a solo drive/mission along the highways…
17. Theme – Question of Sport
Quizmaster Clive – 'nuff said. Friday nights just ain't the same without a text delivered Quiz and the bants that would ensue.
18. Derek & Clive – Hello Colin
One of the classic sketches and the only (slightly obscured) use of the word C@#T on this mix. I ummed and ahhed about making this mix a PG rating, but it just could not be done. Sorry!
19. The Doors – Alabama Song
The first of a few Doors tracks – we were so big on them back in the day. This one brings back hazy memories of a classic night on the rocks. Drink you Zulu warrior!
20. Kenny Rogers – The Gambler
Small to medium scale gambling was a part of a lot of our get togethers. Straight up poker was probably the least played game though….it was all about Shoot, 3 card brag, Nomination Trumps and of course International Rules Blackjack. And Yahtzee… Plenty of Yahtzee 🙂
21. Lee Majors – The Unknown Stuntman
Clive loved a bit of ITV4 nostalgia, and who can blame him…It's only hay, a hey-hey.
22. The Rolling Stones – You Can't Always Get What You Want
There was a time in the 90s where it felt like we lived in the pool room at The Drill – and this was a hammered tune, both on the jukebox and on the long walk home!
23. The KLF – Last Train to Trancentral (remix 1)
This little snippet is in there in memory of a classic lost weekend at the caravan. Look at the train, man.
24. The Beatles – You've Got To Hide Your Love Away [alternative]
A slightly different version of a top tune. I've been known to hammer this out on the old guitar and received vocal support from Clive on many occasion 😉
25. The Cure – The Lovecats
A shout out to Bill on this one. A classic from the time we were all first getting together.
26. Big Daddy Kane – Young, Gifted and Black
Back to the golden hip hop. No pork on my fork, strictly fish on my dish. The Kane fall a victim? Sucker you wish! I will so miss Clive's delivery of this classic line. Ah man.
27. Doug E. Fresh & The Get Fresh Crew – Keep Risin' to the Top
More gold please … Cool in the shade, drink a little lemondade (a few Hooches down at The Optimist on a cheeky midweek day off).
28. Depthcharge – Bounty Killers
More Western vibes and a big summer of '89 tune for us. This one had it all…A measly 1000 bucks for me is much too little, I'm worth a lot more than that … What did you say you name was? I didn't. Classic.
29. Pink Floyd – Summer '68
Clive really liked this tune – it's a connoisseur Floyd choice! We met just six hours ago, the music was too loud.
31. Mumford & Sons – The Cave
A great call from Debs on this one. An epic tune for an epic dude.
32. Dire Straits – Private Investigations
Another one from the Dire Straits canon – there could have been plenty more but this one was definitely a 90s crackly vinyl 5am classic for us.
33. Phil Collins – In The Air Tonight
More late night/early morning vibes and a great shout from Dan to get it in there. Going out to the Dark Lane Cheech and Chong crew. Are we parked yet?
34. Eric B & Rakim – Paid in Full (Seven Minutes of Madness – The Coldcut remix)
This landed in 1987 and is one of the tracks that turned us Catholic Boys into B-Boys 🙂 Me and Eric B, and a nice big plate of fish – which is my favourite dish. Clive really did like raps about fish.
35. Primal Scream – Movin On Up
What a tune. And what a great one to have as your eulogy tune. Nice one Debs X. From one of the key albums for our 90s sessions.
36. Pink Floyd – Shine On You Crazy Diamond (Lihaaz Edit)
The mid-way (ish) point of the mix. Time for some more Shine On. Remember when you were young, you shone like the sun.
37. Smoove – A Quest Called Tribe (Part 1)
A little snippet of the only thing that I could use to get Bill's shout of Can I Kick It in 🙂 Which leads us to some more golden beats…
38. Ice-T – High Rollers (remix)
Ice-T was always big in our game! Cash flow extreme, dress code supreme, vocabulary obscene. Definition? Street player, you know who I mean…
39. Stetsasonic – Sally
In Full Gear was a key hip hop album for us. Some people don't like the way Sally walks straight into…
40. Public Enemy – Fight the Power
Clive tunes don't come much bigger than this. 1989 the number another summer (get down) – sound of the funky drummer. Music hitting your heart 'cause I know you got soul…brothers and sisters!
41. Stetsasonic – Talkin' All That Jazz
There's a couple of different versions spliced together here. Big tunes for big times and golden summers! STOP! Check it out my man…
42. Teddy Pendergrass – Joy
Clive had a lot of time for Teddy, as did I. We were all Soul Boys at some point. Brother, come on in man…
43. The Stone Roses – Waterfall (Justin Robertsons's mix)
There had to be some Roses in this mix and this one fit in well. Another summer of '89 classic.
44. The Beatles – All You Need is Love (love version)
There's nothing you can sing that can't be sung. I think me and Clive disproved this theory a number of times.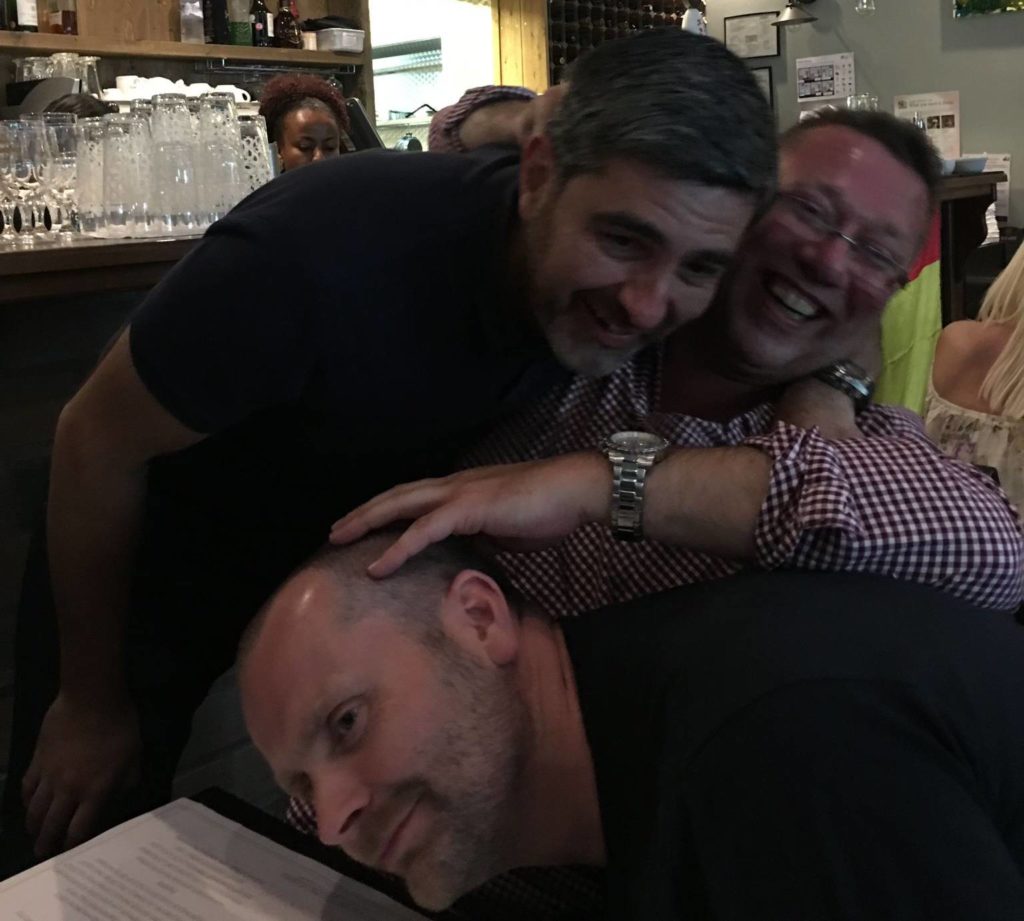 45. The Monkees – Last Train to Clarksville
Take the last train from Fenchurch Street more like 🙂 Shout out to Bill for this one…
46. The Jam – Town Called Malice
More Jukebox pressure from The Drill. There could have been many Jam tunes in this mix!
47. Roger Moore as James Bond – That's a Charming Tune
I think the last birthday mix CD I did for Clive was a James Bond one. It's the one mix I have no copy of :/
48. The John Barry Orchestra – Capsule in Space
More JB vibes. What a piece 🙂
49. Pink Floyd – Nobody Home
The amount of times me and Clive would have listened to (and sung word for word) The Wall from start to finish must be in the 100s. I'll miss that mate.
50. U2 – With Or Without You
There had to be some U2 in this mix, and I hope this is the one Clive would have picked. Also shouted out by Bill, nice one man!
51. The KLF – 3am Eternal (Blue Danube Orb Mix)
Of all the responses I got about potential music to include in this mix, this was the most creative 🙂 Shout out to Gavin on this one who reminded me of Clive's love for the old ZX Spectrum game 'Elite' which in a 2001 Space Odyssey styleee used the Blue Danube for some of it's in game music.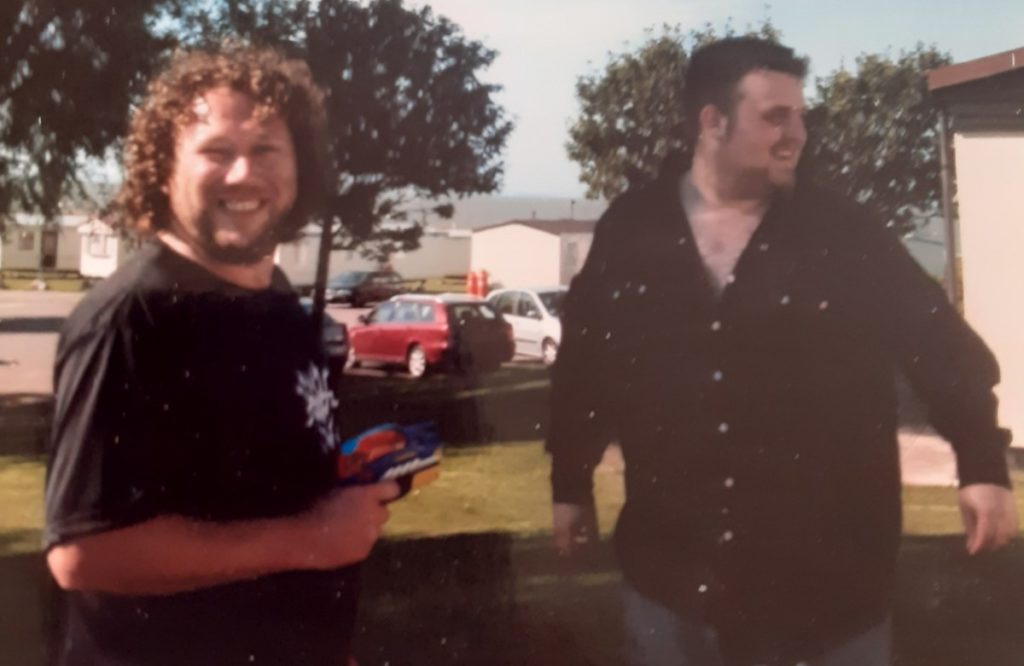 52. Ben Liebrand – Eve of the War (deep space mix)
53. KC Flightt – Planet E
54. Simple Minds – Theme for Great Cities
This section of the mix is a nod to heady 1989 nights that started off at The Spencer's Arms (shout out to Cath, Zoe and all the college crew), took in our beloved Berwick Manor and sometimes finished with the sun coming up over Cotton's Park. Nights at the Astoria. Untold sessions at DJ Acca's place. Golden times with golden people and where our crew really started to expand with the people we met along the way … and like many other classic memories Clive was always at the heart of them.
55. David Holmes – Radio 7
This is another tune from that last Bond mix I did Clive that I know he enjoyed for its fresh take on his favourite theme tune 😉
56. The Doors – Touch Me
We now move into the final section, it's pretty much The Drill/81 Rush Green Road classics from here on in 🙂 We were all so into The Doors at one point…and what what a tune this is. This was sung through so many times, and I (kind of) remember a particularly messy rendition of it at the caravan. Classic times!
57. Kula Shaker – Hey Dude
A great shout from Danielsan on this one – pure 90s brit-pop vibes!
58. The Rolling Stones – Sympathy for the Devil
59. The Rolling Stones – 2000 Light Years From Home
60. The Rolling Stones – Gimme Shelter
We would always come back to the Stones…and these 3 tunes roll up the memories nicely. Woo-woo.
61. Derek & Clive – Russia
Probably the most quoted D&C skit between me and Clive. Well, they've got the right idea haven't they…
62. Pink Floyd – The Great Gig in the Sky
Clive went way to soon man. We're gutted. He loved this track, as do we. I will always be transported back to Floyd in Paris 1994 listening to this track live and remember the young guns we all were back then.
63. Pink Floyd – Wish You Were Here (atmosphere version)
The lyrics say it all on this one, and it's possibly the song we butchered the most on guitar and vocals as the last song of the night throughout the years! This is The Orb's re-touch of this which adds even more vibe to it.
64. Elton John – Your Song
A Clive favourite and shouted out by Debs. My gift is my song, and this one's for you X
65. Eagles – Take It Easy
I'm pretty sure it was Clive who introduced me to the Eagles back in the summer of '89, and I hope he is taking it easy. Easy now Clive, easy now.
66. The Doors – L.A. Woman
Another nod to the caravan, The Drill and so many golden nights. Well, I just got into town about an hour ago – took a look around, see which way the wind blow.
67. Pink Floyd – Shine On You Crazy Diamond, Parts I-V (feat. The Lion King – Nants ingonyama bagithi Baba Sithi uhm ingonyama)
The last play of this tune and the one that titles the mix. It contains another creative shout from Gavin and includes a loop of the Lion King intro that Clive and Cheryl held dear. It worked 🙂 Remember when you were young? You shone like the sun! Shine on you crazy diamond!
68. Pink Floyd – Pigs on the Wing, Part Two
You know that I care what happens to you. And I know that you care for me too.
So I don't feel alone. Or the weight of the stone.
Now that I've found somewhere safe too bury my bone.
And any fool knows a dog needs a home…A shelter from pigs on the wing.
69. Curtis Mayfield – Move On Up (Sam Redmore Re-Edit)
From the moment I had the idea of doing a tribute mix for Clive, I knew that this Curtis classic would be ending it. Mainly because Clive absolutely LOVED Curtis Mayfield and this track in particular, and also because its a nice upbeat way to finish after some introspective mournful vibes…and well, Clive has moved on up. It was confirmed to me that this would be the final tune also when Deb chose the Scream's Movin' On Up as Clive's funeral track. Vibes. This is a fairly recent edit version, and when I first heard it a year or so ago I looked forward to playing it sometime to Clive. I never got to to do that. Lame.

There's a final bit of Derek and Clive to wrap things up and say 'Laters' as that's how we would have said goodbye on our next meet.
Laters Clive – thanks for everything and all the golden memories. You were taken from us well too soon and it's gonna hurt for a long time. I hope all your favourite tunes are playing up there and you didn't get in to too much trouble on the door for listening to too much D&C.
Chris X