41 chill out tracks in 80 minutes – yes, its another Full Flava Behaviour mix 🙂 Purists beware!
⬇️ Download this mix
➡️ Get the collins303 podcast
This was the first mix I released following going digital and getting on the Serato (then, Scratch Live) DVS system. Being able to sort my collection by bpm was a game changer and made doing something like this possible without it taking 2 months. I remember getting excited when the Renegade Soundwave/The Verve came together :) This is pretty much a chill out mix with all sorts of genres thrown in. Now that's what I call Full Flava Behaviour!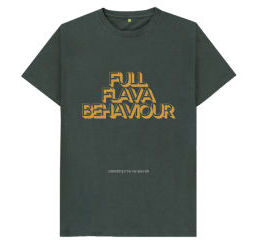 Get the tee shirt!
Available in men and women cuts
and in 3 colours.
Tracklist
Aim – (Cold Water Music) Intro
Renegade Soundwave – Black Eye Boy
The Verve – The Drugs Don't Work
Minnie Riperton – Les Fleur (Fug Re-edit)
The Five Stair Steps – Dear Prudence
I Monster – Daydream In Blue
Willie Williams – Armagideon Time
Queen – We Will Rock You
Open Door – Breathe
Boards Of Canada – Roygbiv
Jimmy Cliff – Johnny Too Bad
Orb – Towers Of Dub
UB40 Feat Chrissie Hynde – I Got You Babe
The Beatles – Magical Mystery Tour
Cassette Boy – Big Brother
The Chi-lites – Have You Seen Her
Massive Attack – Karmacoma (Portishead Mix)
The Avalanches – 2 Hearts In 3/4 Time
Kool & The Gang – Summer Madness (Live)
Aim – A Tree, A Rock & A Cloud
Coldplay – In My Place
Leftfield – Melt
Dynamo Productions – We're Through
Kinobe – Slip Into Something More Comfortable
UB40 – Red Red Wine
Eighth From The Egg – Black Milk
Mos Def – Hip Hop
Jaylib – Stars
The Beatles – Octopuss's Garden
Red Snapper – The Sleepless
Curtis Mayfield – Trippin' Out
Sly & Robbie – Don't Stop The Music
Finlay Quaye – Your Love Gets Sweeter
Propellerheads – Better
Kelis – Caught Out There
Shed Seven – Chasing Rainbows
Pulp – Sorted For E's & Whizz
Soul II Soul – Keep On Moving
TLC – No Scrubs
David Holmes – Inspired By Leyburn
The Party Party – Imagine A Walk On The Wild Side