EASY NOW! My old Berwick Fever mix has recently fallen victim to a rather large identity theft… 
The reason I'm having to publish this post is because I've recently become aware of various punters staking claims on this mix, and obviously I want to have this mix properly credited to me where possible – getting this post up means I can quickly rebuke instances of this happening and sets the story straight from the bits and pieces I've been able to pick up 🙂
Here's a quick summary of events and further updates since posting this:
2002 – I record and publish Berwick Fever
November 2015 – Shush club night publish a rip of the Berwick Fever mix, claiming it as a live Roger Johnson mix that was recorded at the Berwick Manor in 1990 (RJ was resident at the Berwick back then and was/is a total legend!)
April 2016 – I become aware of various posts made by this dude back in November using a rip of the Berwick Fever mix with the claim that he had had the recording since 1990 and that it was record live at The Berwick Manor. I also come across a recording from February 2016 of this fella broadcasting a radio show on KANE FM featuring Berwick Fever in its entirety, apparently with RJ's endorsement to use the mix
20 April 2016 – All parties have been contacted and put right. John responded and stated he would put it right but has since removed his facebook account. Roger and Ivan are yet to respond
21 April 2016 – Published this post.
27 April 2016 – Ivan got in touch with me to go through events from his point of view – he was (clearly!) completely led up the garden path and had no reason to think he was playing anything other than a Roger Johnson mix. Geezer is sound as a pound as far as I'm concerned, and clearly a bit of a legend himself 🙂
29 April 2016 – Mr Flip (another Berwick DJ of the time) got in touch about a new event him and Roger are doing. That conversation definitely suggests that RJ had at no point in any of this actually listened to this mix and endorsed something that wasn't his (although still no reply to me personally).
03 May 2016 – Ivan cleared things up nicely on his Tuesday Throwdown show on Kane FM and played Breakzology Volume 1 and John is back on Facebook.
CASE CLOSED
Here's the full story up to 21 April 2016 – any further updates will just appear above in the summary

collins303 presents…Berwick Fever
Back in 2002 I recorded and published Berwick Fever. It was part of a trilogy of old skool mixes that I did back then (the other 2 being Acid Heaven and A Night in the Slammer). These mixes were all vinyl, recorded digitally to pc via a Pioneer DJM500 mixer and two 1210s. The mixes were shared via the forums I was on at the time (this was pre-facebook!) and went down rather well…..its fair to say that Berwick Fever is one of the most loved mixes I have put out – and I've put out a lot of mixes 🙂
Various other punters present…Berwick Fever
On my birthday last year, my brother posted a mix to my facebook wall, purporting to be a recording of Roger Johnson live at the Berwick Manor in 1990. I was properly stoked and couldn't wait to listen to an old hero of mine, recorded live at a place that has a truly special place in my heart. What a birthday present! I sat back, popped some headphones on and clicked play. What I then heard was my own mix playing back to me. Berwick Fever. My actual first reaction in my head was 'wow – I can't believe RJ started this mix the way I started mine'…..then I heard the exact same echo effect on the end of the intro and normal head service was resumed! It then sunk in that this was in fact my own mix – under a different name and a well dodgy claim that it was recorded live. My next reaction was that this was some sort of wind up from my brother, but when I called him he was as shocked as I was – He hadn't in fact listened to the mix before posting it to me.
DJ Roger Johnson Berwick Manor 1990 by Shush Nottingham on hearthis.at
Obviously I got straight in touch with the user who had posted this to hearthis – a club night called 'Shush' in Nottingham. I also found them on facebook (their account no longer exists) and got in touch with them.
There was no reply to any of my attempts to engage with them so I added a couple of comments to the hearthis mix page and left it at that.
Fast forward to this week – Tuesday 19 April 2016. I was dropping the kids of at the pool in the morning as you do and sneaking a quick look at Facebook, when up pops a notification that someone posted a link to a Roger Johnson mix in the Berwick Manor group I'm a member of. This post itself linked to a post in a different facebook group (the post has now been removed, due to John disabling his account) but luckily I screengrabbed it before it went….
I could instantly see that it linked to the old hearthis post – but as you can see from the screengrab, this had some rather tasty extra flavour added to it, with John claiming that this mix had been blagged at the Berwick 25 years ago (would have had to be on analogue tape or at a stretch DAT), held on to since then and that RJ himself was aware of this and was happy that this mix had surfaced! Cheeky at best, total bollocks at worst.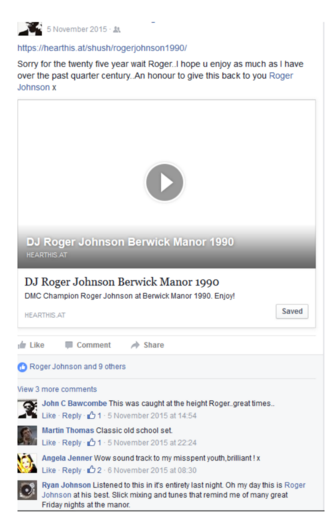 I got in touch with John that evening, and also sent Roger Johnson a message.
I started looking around Facebook for more evidence on this and then came across the cream of the crop – check this post from KANE.FM about a radio show featuring my mix – with all the extras about this being a recording from 1990 etc 😉 The whole show can be listened to here on mixcloud. There's a few errors made with track IDs from the DJ. The recording suggests RJ endorsed this radio mix going out so at this point I have to assume that RJ has listened to this mix and confirmed its him.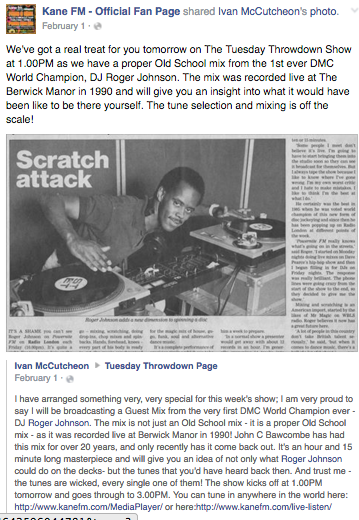 To his credit John came back to me pretty quickly and we ended up chatting on the phone. He sounded like a nice guy. To be fair it did sound like it could have been a genuine case of some sort of cd/audio ripping mix up and to be honest I was pretty happy seeing all the extra love the mix was getting, albeit being credited to the wrong person.
Having said that though, there was a fair amount of BS going around (recorded in 1990, sat on until now!). John said he would get this sorted. He mentioned maybe doing a guest mix for KANE FM. I asked him to get Roger to reply to me if possible, as obviously I needed to find out if he had actually listened to this mix. If I knew that RJ had listened to this mix and enjoyed it, that would be a result!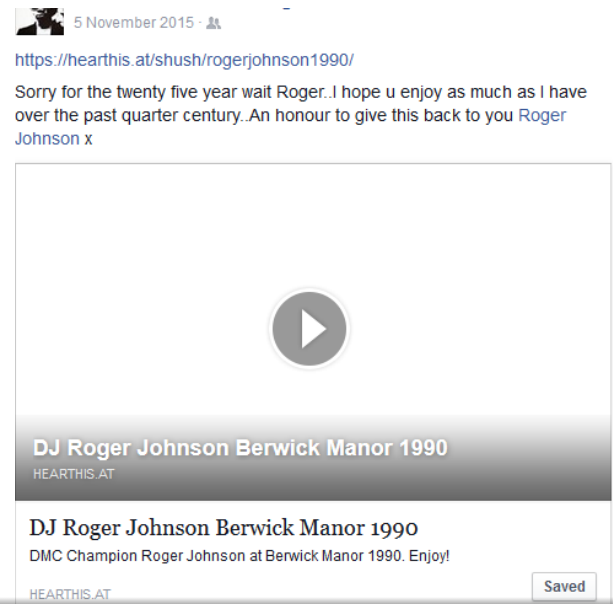 (To be clear, there's nothing I can see where RJ himself confirms it is his mix but then who would endorse a mix going out on the radio by them without listening to it? Especially with this history attached to it? If someone came to me telling me they had a recording of me from Time Tunnel at the Slammer from 1991 of course I would listen to it. And although it was a long time ago, i'm pretty sure I'd be able to tell if it was me or not!).
John said he would get back to me the following day to let me know what was going on.
As of today (Sunday 24 April 2016) there has been no reply from John or Roger. However, John has now removed his facebook account, meaning that those posts are no longer available. I've messaged DJ Ivan to see if he can throw anymore light on this and to let him know that this rebuke was going to be posted and linked to any instances I find of this mix being attributed to Roger.
And I'll leave it there. Any further udpates on this will be posted in the summary section at the top of this page 🙂
…And just in case anyone has any doubts:
the mix starts with an intro that would have challenging at best to pull of live in 1990 – the (DJM500) echo effect would have been rare in a club back then!
there are various giveaway DJM500 effects throughout the mix – flanges, echos etc – that would have been rare in a club back then.
there are EQ effects that again would have been rare on a mixer back then
there are lots of tunes on the mix that are later than 1990
I performed and released this mix in 2002
If any of the players in this are unhappy with any of what I've posted here, get in touch.